WHAT WE ARE ABOUT!
Task Racing is all about fun.  Riders of powersports are all about adventure.  They have fun riding their vehicles, being with friends, and sharing experiences.   Task Racing Helmet Lights and Light Bars extend the fun factor into the night hours, allowing those epic rides to continue!   Our lights are designed FOR riders , BY riders!  Whether you are riding dirt bikes, adventure bikes, quads, ATV/UTV, snowmobiles, snowboarding/skiing, hunting, mountain biking or other helmet sports, these lights will illuminate your way to some great and unique experiences!
Anyone who night rides knows a good helmet light is critical. Helmet lights allow you to see everywhere you look, and smoothly too— as your head is the smoothest/most stable part of the dirtbike/rider alliance.   Helmet lights allow you critical visibility, allowing you to look to the corner, through the corner, and to the next corner, up/down hills, over ravines, through rocks, etc.—as it follows your eyes.  Mounting a helmet light onto your visor smooths out the light, as your body and legs absorb the bumps–  allowing the rider to see much better.   Our lights cast a hot spot light center with a broad flood over the terrain in front of you, basically turning night into day.   They are also fully adjustable- 4-Way–up/down/left/right, easily done while riding as the terrain presents itself–WITHOUT TOOLS.  Our low price point gives everybody a chance to enjoy the ride.  Have fun out there!!
Mark resides in coastal Massachusetts, using these lights multiple times per week.  Night rides during the week and long weekend rips with his riding buddies, he remains an avid motorcycle enthusiast.  Mark rides his Sherco 300SEF-R and his older KTM250XCW  in 24Hr Races, GNCC, JDay, and NETRA Hare Scrambles.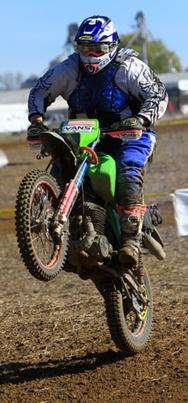 Tom has been an avid motorcycle enthusiast his whole life.  Active in road racing, enduro, adventure riding and ice racing.  He is an active part of his Moto On Ice racing club in Cedar Lake, IN and continues to fuel his passion for racing by attending local hare scrambles, 24Hr Races and Grand National Cross Country races around the US.  Tom rips up the woods on the KTM400EXC, or his new found adventure thirst on his very capable and uniquely set up Kawasaki KLR650 dual sport.